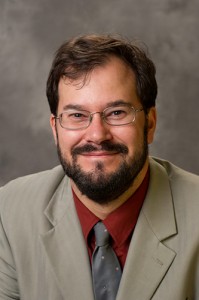 I'm an Associate Professor of Old and Middle English at Rutgers University-Camden, where I study the literary history of food and cooking in medieval English literature, primarily with a interest in the ways that food is used to discuss political theory in the medieval romance. I'm currently working on a book, titled Political Appetites: Food in Medieval English Romance.
My teaching is heavily involved with the interplay between medieval and modern, demonstrating what sophisticated knowledge of the Middle Ages can reveal to our contemporary world. My classes reach a broad variety of RUC students, undergraduate and graduate, majors and otherwise, and include classes on ancient and medieval heroism, traveling in the Middle Ages, global collections of short stories, and the Icelandic sögur, as well as standard English fare as early literature surveys, Chaucer, and Old English literature. I see the medieval world as a global, multicultural phenomenon intricately wound with secular politics and religious experience, and believe this pre-capitalist, pre-fundamentalist, pre-colonialist, pre-Renaissance world contains valuable lessons about what the modern world can become.
 In my spare time, I'm an avid translator of Anglo-Saxon poetry, and my work can be found on my webpage, The Anglo-Saxon Narrative Poetry Project (URL listed below). I have also opened up a project to translate the entirety of the extant Old English homilies in modern English, work that is much-needed.
Contact information:
477 Armitage Hall
311 North Fifth Street
Camden NJ 08102
Email (the best way to reach me):
akh58@camden.rutgers.edu
Website:
The Anglo-Saxon Narrative Poetry Project
http://anglosaxonpoetry.camden.rutgers.edu
The Old English Homily Project
http://people.camden.rutgers.edu/anglo-saxon-homilies/